REFER & EARN
Refer your business to the Employee Parking Platform and you will earn €50! All you need to do is enquire on behalf of your business and then pass on the contact details of the decision maker in your business.
Terms and conditions
Referral must be made in advance of the Platform being set up
10 Season Tickets must be sold under the scheme for the business for you to earn the €50
€50 will be added to a Q-Park Rewards app account for you to redeem as money into your bank account or retail vouchers
Referral must be made before 30th April 2019 to qualify
What is the Employee Parking platform?
The Employee Parking Platform is an exclusive discounted platform designed for companies with employees that pay for their own parking. Q-Park create a unique URL that gives your employees access to the discount.
A simple booking form allows employees to buy an annual, quarterly or monthly Premier Card.
Benefits to the company:
The platform is free to the company
Enhance staff retention and recruitment
Available to all new employees joining the company
No onus on the company, parking is between the employee &

Q-Park

Also available to companies that pay parking for employees
Set up simple and can be live within 7 days
Branded platform to maintain professional approach
Benefits to employees:
Discounted parking in city centre locations
Multiple entries per 24 Hours
Flexible payment options – monthly, quarterly or annually
No need for cash at car park – online payment
No queuing at paystations to pay
Unlimited card holders can join

Q-Park

Advantage Club for extra benefits
How does it work?
Q-Park will set-up a URL unique to your company. The employee will click on the URL to a landing page where they can purchase their discounted parking online. The contactless parking card will then be sent to the employee.
A renewal email will be sent prior to the parking expiry date to make it easier to keep track of. The employee simply repeats the process to ensure a seamless parking experience.
The landing page from the URL is completely customisable so any content or images can be added to the page.
Please see an example of the landing page here: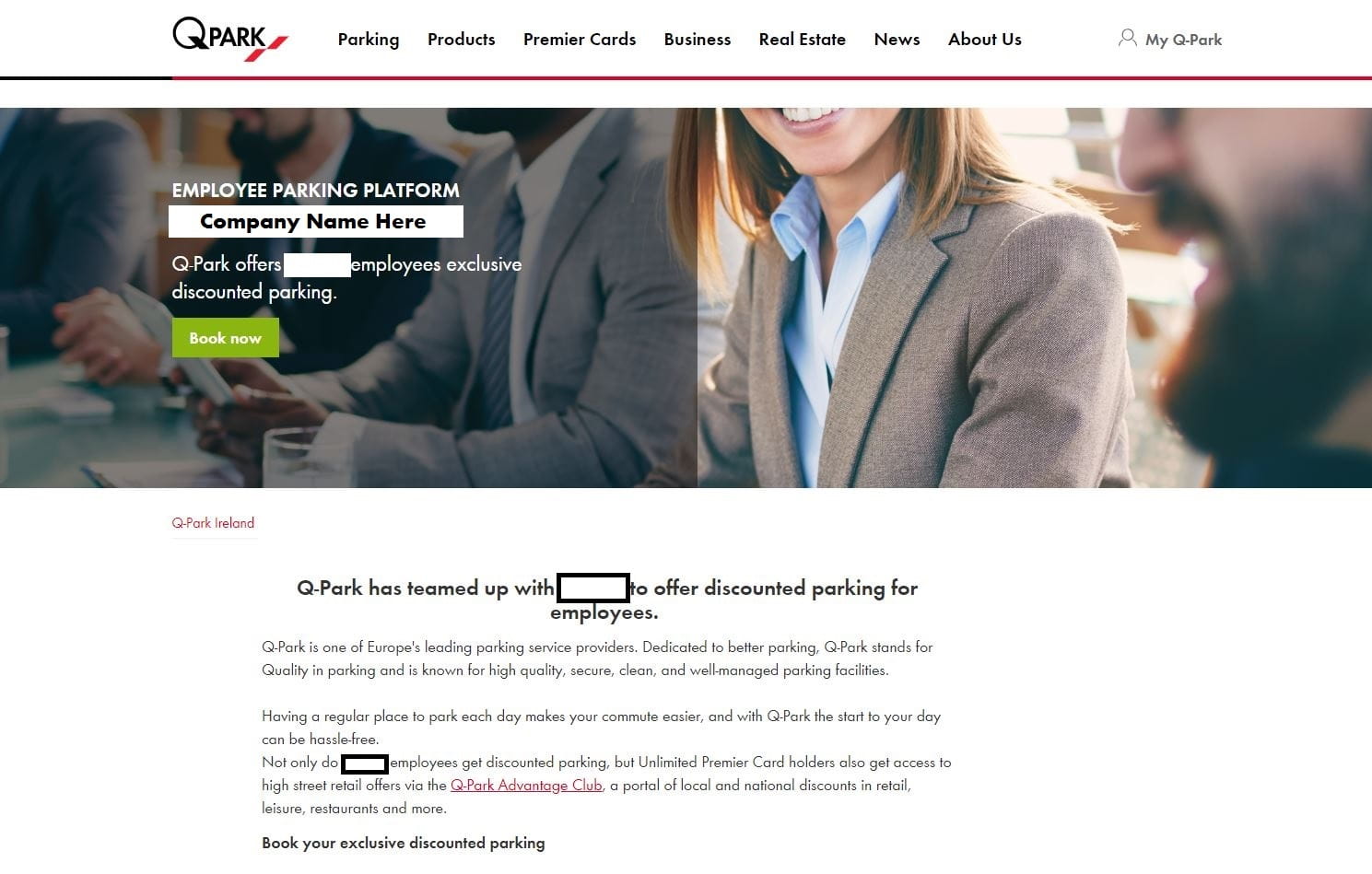 You can download the PDF with this information here: Employee Parking Platform
If you have any further questions, please email sales@q-park.ie