What problem do we solve?
Travelling to work by bicycle is on the rise and city centres have little to no secure bicycle storage. This means some riders come out after a hard day at work to find their expensive treasured bicycle has been stolen. Q-Park have the secure facilities that can be used for bicycle storage for businesses to arrange for their employees.
What do we do?
We install a secure cage on one (or as many as the customer requires) parking space. The customer will simply need to supply and fit their own lock to the cage door and can then install their own racks for the bicycles inside their caged area. We can also provide access cards to open the secure pedestrian doors of the car park.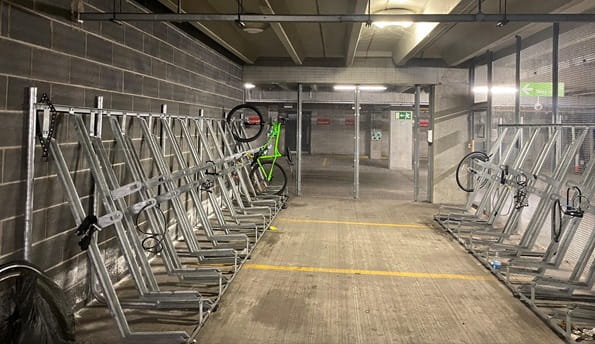 Opening Times
The vast majority of our car parks are open 24/7 meaning that the customers can always access their storage area. If the car park does close overnight the facility is locked down entirely so the bicycles will still be in a secure environment.
Security
Our car parks have industry leading security features ranging from vehicle and pedestrian entry that is only accessible for our customers. We also invest heavily in the latest technology in CCTV and LED lighting and our dedicated parking hosts regularly patrol the parking facility. All property left in the car parks is at the owners risk however customers ca be assured that our car parks are much more secure than chaining a bicycle up on the street.
Period
Bicycle Storage is available to businesses only on an annual contract.


Costs
The costs vary depending on space requirement and which location but Q-Park will have a space to fit most budgets.
Want to find out more or book your space?
Please email sales@q-park.ie and our solutions team will assist.